Short biography and more
Willem Overtoom, (4 May 1945) was born in Spierdijk / Berkhout, the Netherlands, and studied interior architecture at the Art Academy of Tilburg (NL). He worked for two furniture factories as freelance interior architect and furniture designer till 1972.
Overtoom enjoyed oil painting for a few of years, before starting as teacher in art and audio visual education at an institute for social workers. He did this for 15 years.
At the same time he carried out curriculum development for the Ministry of Education and Science for three years and was partner in a team that developed a method for education through art intended for the secondary level.
Since 1988 he has worked as an artist, sculptor and painter with light (*) and creates his so-called "literary photography", in the studio.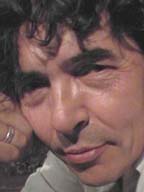 Over recent years, Overtoom has adopted the following themes for his work.
The Eros series - images from visual and tactile memories, dreams and illusions about body, corporeality, touching and being touched. Images you really only see with your eyes closed.
The Avatar series - images about incarnation, transformation, finding oneself in oneself, finding the light in yourself.
The Changing Light series - describing light and sequence as sculpture, but also using elements from Eros and Avatar.
In the world his photo-art takes form in land-, town- and seascapes, in portraits, people, nature and atmosphere. He does not make photo reportage's, journalism or documentary. His pictures can be best described as "autonomous images with an abstract and highly painting impact".
His use of colors and available light in his pictures is remarkable and he has more the approach of a painter than of a photographer.
For this work he visited a number of countries in North-, Central-, and South America, in Europe and South East Asia.
His wide range of slide stock comprises approximately 8000 images. A selection of these is presented on the Web by Vintage from Germany (www.vintage.de) and he is represented by TCS/The Cover Story (www.thecoverstory.com), Amsterdam.
Exhibitions were organized on different places in The Netherlands, Germany, Malaysia and France
and his work is admitted in the following collections:
Bert Hartkamp collection 2, Amerongen, The Netherlands.
La Bibliotèque Nationale de France, Paris, France.
Il Diaframma, Milan, Italy.
Institut Seni Lukis (Academy for Visual Art) collection, Kuala Lumpur Malaysia.
Art for public buildings from the Council of Leiden, Leiden, The Netherlands.
Art Library CBK, Leiden, The Netherlands.
Municipal Museum De Lakenhal, Leiden, The Netherlands.
Research voor Beleid collection, Leiden, The Netherlands.

*Jean Claude Lemagny